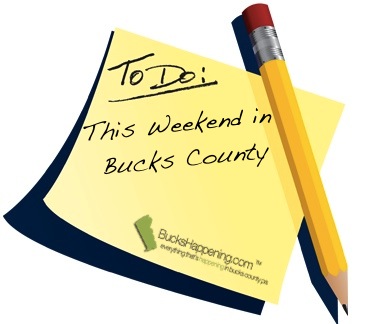 Are you excited for fall to start this weekend? While you can prep with our full Fall Guide, you can also check out our weekend guide for Thursday, September 20th, 2012 – Sunday, September 23rd, 2012 below. We have included some of the best events happening in Bucks County this weekend. Also, make sure to check out more fun things to do on our sortable calendar of events & restaurant guide.
Health Movie Night
Wellness Works, 500 Horizon Dr, Chalfont
6:00pm – 9:00pm
The mission of Movie Night is to connect local food providers to community while raising awareness about food, nutrition, and health. With increased knowledge, connection, and resources, we heal the planet and ourselves. Starting at 6:00, plan to network and getting to know your local food resources and providers. The program will start at 6:30pm with a question and answer session to follow. Tonight's feature film is Bitter Seeds, a powerful, eye-opening film that exposes the effects of Monsanto's greed on Indian farmers.
Exercise Group
Wrightstown Village Library, 727 Penns Park Rd, Newtown
9:00am – 10:00am
Enjoy a free exercise group for people of varying levels of fitness. Plan on wearing loose-fitting, comfortable clothes and sneakers. Please bring your own hand weights. It is recommended that beginners bring 2 lb, intermediates bring 3 lb, and advanced bring 4 or 5 lb.
Design for Murder
McCoole's Arts & Events Place, 10 S Main St, Quakertown
Begins at 8:00pm (also on September 22nd, 8:00pm and September 23rd, 2:00pm)
"Design for Murder," by George Batson, was originally written as a touring vehicle for the great Talullah Bankhead back in the early 1930s depression era America. As fallout from the Great Depression spreads, Celia Granger's estate on the Hudson river totters on the brink of collapse. The only thing that can save her is a social advantageous marriage for her unstable son, David. But, when that impending union is threatened by a blackmailing maid and chauffer, and each in turn is found brutally murdered, Celia finds herself the primary suspect in an investigation by the watchful village constable. Tickets are $18 for adults, $14 for seniors, and $10 for students.
Kick-Off Celebration
Doylestown Bookshop, 16 S Main St, Doylestown
6:00pm – 9:00pm (continues on through Monday)
Join the Doylestown Bookshop for their grand re-opening weekend celebration! Friday night will be the Celebration Reception, featuring Harpist Jay Ansill, the Liar's Club, and a Create Your Own Velvet Art station for kids. The following days will be filled with book signings, live music, story time, and a Puppypalooza! Refreshments will be served in the cafe.
43rd Annual Yardley Harvest Day Festival
E. College Ave & S. Canal St, Yardley
10:00am – 5:00pm (rain or shine)
Harvest Day is an authentic Fine Arts and Crafts Festival with beautiful artwork and handmade pieces offered by over 100 exhibitors, delicious food vendors and community-sponsored booths. Regulars will recognize the many talented and wonderful returning crafters as well as many additional exhibitors, new this year. Harvest Day is a fundraiser sponsored by Makefield Women's Association (MWA) and Yardley Business Association (YBA). One hundred percent of YBA's profit goes to funding Borough activities and one hundred percent of MWA's profit goes to local charities.
Newtown Beerfest
Stocking Works Complex, Newtown

2:00pm – 5:30pm
Newtown's premiere beer tasting event presented by the Newtown Fire Association. There will be over 80 breweries, local food vendors and live music. The first tap session starts at 12:30. There is a limited amount of tickets available for this 1.5 hour pre-event tasting which offers no lines, rare brews and a commemorative t-shirt. The main event begins at 2pm and ends at 5:30pm. We also offer a designated driver ticket for people that want to enjoy the event but not drink any beer.
PumpkinFest
Shady Brook Farm, 931 Stony Hill Road, Yardley
11:00am – 5:00pm (also on Saturday, 11:00am – 5:00pm)
Bring the family for a day of Fall Fun down on the farm! Enjoy wagon rides, pick-your-own pumpkins, and lots more family fun. This weekend is the last weekend for half-price admission.  Included in your admission, you will be able to wind your way through a giant corn maze and hay maze. All new for 2012, PumpkinFest will be open daily from September 29th through 31st with even later hours.
Apples and pumpkins are sold by the pound.
The Inaugual WPST Bucks County Bridal Show
Rose Bank Winery, 258 Durham Rd, Newtown
11:00am – 3:00pm
Fashion show hosted by Chris Rollins & Toni Ryan at 1pm presented by Sposabella Bridal and Schweon Tuxedos and a performance from Nick Z Entertainment! Meet vendors including photographers, DJs, florists, spas, salons, invitations, caterers, and everything else you need to plan your wedding PLUS, one lucky couple will win a free wedding gown and tuxedo for their special day! And one lucky couple will win a honeymoon! Brides are FREE – Admission for all other guests is $5 each.
13th Annual FACT AIDS walk
New Hope-Solebury School, 180 West Bridge Street  New Hope
Registration starts at 9:00am
Mark your calendars for the 13th Annual New Hope/Lambertville AIDS Walk sponsored by FACT Bucks County.  Friends, families, kids, parents, couples, singles—over 500 Walkers–from each and every part of our community have raised more than $550,000 to date.  You'll be amazed at what can be accomplished in just one morning! Each and every dollar will provide essential funding for people who have nowhere else to turn for help in paying for medications, utility bills, rent or mortgage payments, transportation, funeral expenses and other basic personal needs.
Sponsors: