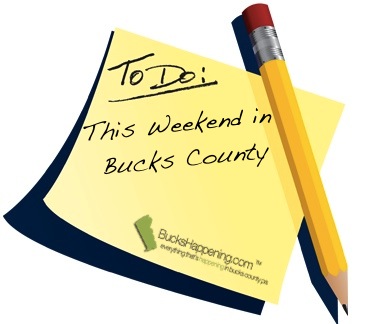 Want to make sure you utilize these last few weekends of summer? Then check out our guide for Thursday, August 23rd, 2012 – Sunday, August 26th, 2012 below. We have included some of the best events happening in Bucks County this weekend. Also, make sure to check out more fun things to do on our sortable calendar of events & restaurant guide.
Look Good … Feel Better
Central Bucks Family YMCA, 2500 Lower State Rd, Doylestown
7:00pm – 9:00pm
A free program for women in cancer treatment offered in partnership with the National Cosmetology Association and The Personal Care Products Council Foundation. During this two-hour workshop, volunteer licensed beauty professionals will teach participants about make-up and skin care; how to style wigs, turbans, scarves and accessories, and how to care for their nails.  To register, please call Maureen Moran at 215-985-5318.
Tap Takeover with Evil Twin Brewing
Isaac Newton's, 18 S State St, Newtown
7:00pm – 9:00pm
Isaac Newton's is honored to be turning over the taps to the revolutionary beers of Evil Twin Brewing! Brewmaster Jeppe Jarnit-Bjergsø's incredible beers will be showcased by Buddy Hadry of Bella Vista Beer Distributor and Bridget Smith from 12 Percent Imports who jointly provide Evil Twin products to our area.  Don't miss an opportunity to try these extremely limited draft offerings and a chance to discuss Evil Twin or beer in general with Buddy and Bridget! As always, the final line-up is subject to change in case any other Evil Twin rarity comes our way!
Singles Campfire & Night Hike
Peace Valley Nature Center, 170 N Chapman Rd, Doylestown
8:30pm – 10:30pm
Join Director Naturalist Craig Olsen for an evening of fun and fellowship. A walk and an interactive campfire rounds out a glorious summer evening. Cost is $5 for non-members and $3 for members.
CATS
New Hope-Solebury High School, 182 West Bridge Street , New Hope
Starts at 8:00pm (click here for other showings)
On the eve of the annual Jellicle Ball, the cats gathered in the hopes of being selected to receive the next of their nine lives. A true theatre phenomenon, Cats ran for over 18 years on Broadway and won 7 Tony Awards including "Best Musical." Research seating can be purchased online at the Delaware River Theatre Collective's website. Having joined forces with the Fabulous Felines Cat Adoption Center, adoptable cats and kittens will be at the theater prior to each performance.
Lansdale Founders Day
New Hope & Ivyland Railroad, 32 West Bridge Street, New Hope
Departs from New Hope at 8:30am
For the first time ever, ride the New Hope and Ivyland from New Hope to Lansdale in celebration of the second annual "Founders Day" and the 140 anniversary of the Borough of Lansdale's incorporation. The train will depart New Hope and travel the entire length of the NHRR. After a brief station stop at SEPTA's Warminster station, the train will continue over SEPTA tracks to Lansdale, PA. Once in Lansdale, passengers can attend the many events featuring the Lansdale Farmers' Market, Festival of the Arts, Municipal Complex Open Houses and Lansdale Historical Society tours.
Fine Crafts at the Winery
New Hope Winery, 6123 Lower York Rd, New Hope
10:00am – 6:00pm (also occurring on Sunday from 11:00am – 5:00pm)
Fine Crafts at the Winery is an indoor event where the Guild has assembled a talented group of more than 20 members for the show. The focus will be on hand-crafted jewelry, functional & decorative woodturnings, pottery, weaving, and other works including fused glass and contemporary furnishings. There will be a wine-tasting bar with food available during the show. This is a free event.
Monthly Outdoor Flea Market
890 W Bridge St, Morrisville
8:00am – 11:30am
We will host a monthly flea market-to be held the 4th Saturday of each month. Residence and business owners are welcome to sell their old and new things. Call or email Colleen at 215-295-1139 x 102. [email protected]
Runaway Broadway
Bristol Riverside Theatre, 120 Radcliffe St, Bristol
Starts at 3:00pm (click here for other showings)
Enjoy the last afternoon of classic Broadway hits with a special tribute to Jerry Herman and Stephen Sondheim at the Bristol Riverside Theater. Herman is best known for shows like Hello Dolly, Mame, and La Cage Aux Folles. Sondheim is the winner of more Tony Awards than any other composer for such musicals as A Little Night Music and Sweeney Todd. Beat the August heat as you enjoy these Broadway favorites!
Sponsors: