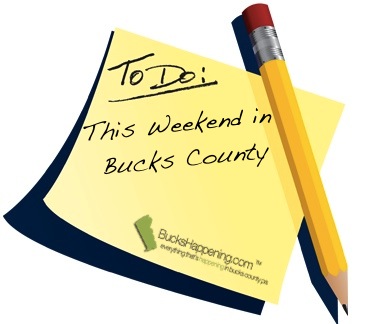 If you are not completely wiped out from two weekends of celebrating our independence, check out our guide for Thursday, July 12th, 2012 – Sunday, July 15th, 2012 below. We have included some of the best events happening in Bucks County this weekend. Also, make sure to check out more fun things to do on our sortable calendar of events & restaurant guide.

New Hope Film Festival
New Hope
Varying times
A festival where a group of artists who share a passion for discovering and nurturing independent filmmakers—many of whom will make world and U.S. debuts at our festival—and for giving a voice to deserving professionals who've been overlooked by established forums. This broad and inclusive group includes filmmakers from outside the United States.
Adrian Legg
Sellersville Theater, 24 W. Temple Ave, Sellersville
Starts at 8:00pm
Since the 1990 release of his first U.S. recording "Guitars and Other Cathedrals," Adrian Legg has more than lived up to the expectations stirred by an ongoing avalanche of praise from critics, fans, top guitar magazines and peers alike. He's been named "Best Fingerstyle Guitarist" four years straight by the readers of Guitar Player Magazine and also had top albums according to Guitar Player in its annual readers' polls. In his electro-acoustic quest, Legg finds the holy guitar grail melding tone, technique and technology.
The Women's Business Forum "Mastermind Sessions"
Homewood Suites by Hilton Newtown, 110 Pheasant Run, Newtown
12:00pm – 1:00pm
Bring your challenges and questions, and we'll brainstorm in small groups to offer solutions to your top work challenges. You will walk away with specific advice to put to work in your business. An experienced business owner facilitates the session.
ALL meetings are free and open to the public. No advance registration is required. We look forward to meeting you and learning about your business.
Wine Concert Series
Shady Brook Farm, 931 Stony Hill Road, Yardley
6:00pm – 9:00pm
Don't miss our favorite neighborhood event! Bring the whole family to hear great local bands, enjoy wine tasting by Rose Bank Winery, and relax on our beautifully landscaped E.P. Henry patio. Enjoy crackers, cheeses, chips and dips from our Farm Market, and sandwiches from our full service Deli, or grab a burger or dog hot off the grill. Playground for kids! Uncle Dave's Homemade Ice Cream is open for business. Wine is sold by the glass or by the bottle. No outside food or beverages are permitted. This week enjoy some jazz music provided by the talented Brian DiBiagio.
2nd Annual Craft Beer Fest "Beers for a Cure"
MOM's Maxwells on Main, 37 N Main St, Doylestown
1:00pm – 5:00pm
Join MOM's for their second annual Craft Beer Fest with 15 top breweries- many that are local! MOMs will be having food, giveaways, and raffles! Proceeds of this event will benefit the Michael Napoleone Memorial Foundation. Advance tickets are $40 per person and can be purchased at Maxwells on Main or online at the link above. Online ticket holders should bring their receipt as this will act as your ticket. Tickets at the door will be $50.
Artist's Studio Tour
Arts & Fashion Institute, 595 Summit Lane, Riegelsville
10:00am – 2:00pm
RSVP to tour the Arts & Fashion Institute™ studios which includes viewing art by award-winning instructors including Scott Hanna , Pamela Ptak, Annette Adrian Hanna, and more! Speak with instructors and view work by art students. Teens age 10-17 can apply for 1 of 6 remaining full-class teen summer scholarships by bringing their art for instructor review. 4 scholarships have already been awarded. While this is a free tour, RSVP is required. Reserve your spot by calling (610) 346-6071 or e-mailing [email protected]
Antique & Classic Auto Show
State Street, Newtown
10:00am – 3:00pm
Join Newtown for its annual Antique & Classic Auto Show! It's open to all cars, trucks, street rods, sport cars, and muscle cars up to Model Year 1987. Cars will be judged by fellow car owners. There will be also be special gifts and hourly prize drawings. Show fee is $25. Check in is between 8:00am to 10:00am. Space is limited to 200 cars on a "first-come, first-serve basis." After 10:00am, space for pre-registered cars will not be held!
Jog n' Hog
Shady Brook Farm, 931 Stony Hill Road, Yardley
Jog n' Hog starts at 8:30am while the Junior Jog n' Hog starts at 10:00am
Happy National Ice Cream Day! And what better way to celebrate then by entering the Jog n' Hog. For those who do not know, it is a 4 mile run with a break halfway through for a quart of Uncle Dave's Ice Cream. The fitness and food combination event is happening at Shady Brook Farm. Participants should be prepared to run on dirt roads. Racers are also asked to bring one non-perishable food item for the Bucks County Housing Groups Penndel Food Pantry.
Phillies Harmony Fan Club Fun Day
Central Bucks Family YMCA, 2500 Lower State Road, Doylestown
1:00pm – 3:00pm
Central Bucks Family YMCA, Autism Cares Foundation, Friendship Circle, and TopSports are coming together to offer a Phillies Harmony Fan Club Fun Day at the Y on Sunday July 15, 2012. The purpose of our event is to offer both children and adults with special needs a fun day of baseball to help encourage physical fitness, develop fine and gross motor skills, and socialization. All the equipment is provided by Phillies Harmony Fan Club and it is "play safe" equipment, comprised of plastic, rubber, and foam structure materials for the safety of all our participants. Contact Brooke Johnston for details, 215-348-8131, x1141.
Sponsors: