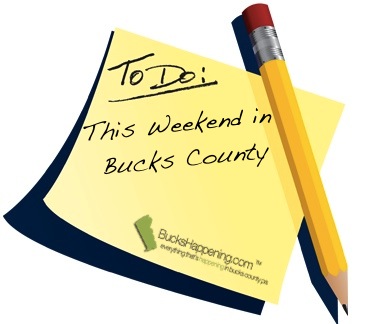 Want to start your weekend before the 4th of July the right way? Check out our guide for Thursday, June 28th, 2012 – Sunday, July 1st, 2012 below. . We have included some of the best events happening in Bucks County this weekend. Also, make sure to check out more fun things to do on our sortable calendar of events & restaurant guide. Oh, and those with Olympic fever should probably check out this post
Tap Take-Over with the Victory Brewing Company
Isaac Newton's, 18 South State Street, Newtown
Starts at 7:00pm
Thursday, June 28th at 7pm, Isaac's will be welcoming local favorite Victory Brewing Company! Adam Gladish, the local representative from Victory, will be here as we tap a bunch of limited and seasonal beers including the Summer Love Ale (5.2%), Ranch Double IPA HBC 369 (7.5%), V-12 (>=12%), Mad King's Weiss (6.2%), Baltic Thunder (8.5%), and the phenomenal Saison du BUFF (6.8%)! Each Victory beer you purchase gets a chance to win a growler filled with your choice of Victory beer! Come by and grab a pint or two with Adam as he might have some other stuff to give away!
Perkasie Fire Company Carnival
Lenape Park, 555 Constitution Ave, Perkasie
6:00pm – 11:00pm
Are you ready for some carnival fun? The Perkasie Fire Company Carnival is here! Come out and bring your entire family and friends! You'll enjoy all kinds of rides, games, food, and super fun times. There are plenty of rides to choose from, so their is something there for everyone. So for a traditional carnival fun with cotton candy, funnel cakes, hamburgers, pizza, ice cream, and plenty of other goodies to satisfy your food and fun cravings, come on out!
The Little Mermaid
Yardley Community Center, 64 S. Main St, Yardley
Starts at 7:00pm
Anemone, an adventurous little Mermaid, leaves her undersea realm for an excursion to the surface in hopes to find the prince of her dreams.  Accompanied by her friend, Clem Clam, they begin their quest.  But a jealous Sea-Witch threatens her and frightens everyone. Patience, love and friendship solve this delightful dilemma. From the Tales of Hans Christian Andersen Acting Naturally brings you The Little Mermaid. Tickets are $8.00 per person.
Free Trial: Adult Dance Class
Central Bucks Family YMCA, 2500 Lower State Road, Doylestown
6:15pm – 7:15pm
Join the CBFYMCA for a free trial class of our popular Friday night adult dance classes. Comfortable clothes and leather soled shoes are recommended. Contact Valerie Tanner 215-348-8131, x1140 for more information.
Family Fun Day!
Rice's Market, 6326 Greenhill Road, New Hope
7:00am – 1:00pm
Join Rice's Market for Family Fun Day.  We will have all our vendors plus additional craft vendors, moon bounce, pony rides, games and a pet adoption.  Proceeds benefit the Bucks County SPCA.
Darren Daulton at Joe Canal's
Joe Canals Lawrenceville, 3375 US Rt. 1 South (in the Mercer Mall)
1pm to 3pm
Phillies legend Darren Daulton will be stopping by Joe Canal's in Lawrenceville for a meet and greet, presented by Yuengling Lager and Yuengling Light Lager. Don't miss your chance to meet a Phillies legend!
2012 Celebration of Freedom
Peddler's Village, Lahaska
4:00pm – 10:00pm
This weekend, Peddler's Village will host the 9th annual "Celebration of Freedom". Live entertainment, children's activities, and picnic-style favorites await you at this patriotic event. Fireworks display at 9:15pm. Free admission. Plus, this year will mark the first ever music accompanying fireworks courtesy of Signature DJ's. Admission and parking is free!
Frankenstein
County Theater, 20 E. State St., Doylestown
Starts at 12:30pm
Last year at the National Theatre, Danny Boyle (Slumdog Millionaire) directed this award-winning production of FRANKENSTEIN, a play by Nick Dear, based on the novel by Mary Shelley. Jonny Lee Miller was featured as Victor and Benedict Cumberbatch as the Creature (Cast A). They then flipped roles during the play's run, with Benedict Cumberbatch as Victor and Jonny Lee Miller as the Creature (Cast B), which gave the play a whole new spin. We bring you both versions in this emotionally powerful production.
Olympian Kerri Strugg at Parx Casino
2999 Street Road, Bensalem, PA 19020
5pm to 7pm
Get inspired with Kerri Strug, member of the "Magnificent Seven" U.S. gymnastics team, who famously landed an impossible vault to secure the first ever U.S. women's gymnastic's team Gold medal.
Bristol Lions Summer Concert Series
Bristol Lions Park, Mill & Radcliffe Streets, Bristol
Starts at 6:00pm
Join the Bristol Lions Club for their Summer Concert series! This week's featured performer is Special Blend, a 50's & 60's country band.
Sponsors: