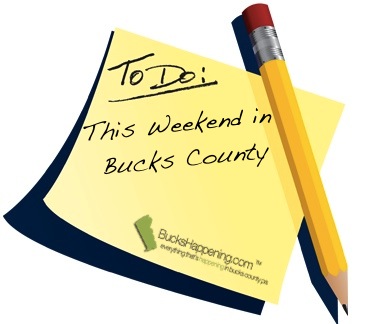 Even with this crazy heat, there is always something to do in Bucks County. Check out our guide for Thursday, July 19th, 2012 – Sunday, July 22nd, 2012 below. We have included some of the best events happening in Bucks County this weekend. Also, make sure to check out more fun things to do on our sortable calendar of events & restaurant guide.
 Monthly Poetry Night
Doylestown Bookshop, 16 S Main Street, Doylestown
6:00pm – 7:30pm
Join us on the third Thursday of every month for Poetry Night! There will be specifically chosen poets scheduled to read at the start, followed by an opportunity to bring your own poetry for an open-mic setting. If you are interested in being a part of this monthly event, contact Melanie Eyth at [email protected]
Health Movie Night featuring "Fat, Sick & Nearly Dead"
The Chip Factory, 7034 Easton Rd, Pipersville
6:00pm – 9:30pm
Join The Chip Factory at Brad's Raw Foods for a free movie night, every third Thursday of the month. Along with the movie there will be time to network, get snacks, and Q&A session. "Fat, Sick & Nearly Dead" is a Joe Cross film & documentary of his inspiring story and how he reclaimed his health through changing his food choices and lifestyle.
Movie Under The Stars
Carousel Village at Indian Walk, 591 Durham Rd, Wrightstown
5:00pm to 10:00pm
Enjoy a night with friends and family at Carousel Village's Move Under the Stars! This week they are showing Toy Story 3! Festivities begin at 5:00 pm while the movie begins at 8:30 pm. Don't forget to bring your blankets and chairs! Movie snacks, drinks, and popcorn will be available throughout the whole movie.
40 Art
Phoenix Art Supplies & Framing, 323 South Main Street, Doylestown
7:00pm – 9:00pm
Once again this year, Phoenix Art Supplies & Framing is holding 40 ART in the tent out back! Everyone is welcome to attend the event and purchase or submit their artwork – or both! All submitted artwork is exhibited . In previous years, we have received and exhibited over 300 pieces of artwork from artist varying from beginners to well – established. And all pieces 5″x7″, unsigned anonymous, and priced at $40. All medias are welcome! THe opening evening of the event, admirers and buyers line up early to get the first shot at the best works. It is really quite an event and a fun social gathering.
Doylestown at Dusk Car Show
West State Street, Clinton Street, and West Court Street, Doylestown
5:00pm – 10:00pm (rain date is July 28th)
Join Doylestown for their annual Dusk Car Show. This family friendly event features hundreds of antique, classic and custom automobiles on display and competing for prizes. In addition to the cars, there will be food available from many of Doylestown's fine restaurants, live bands, children's entertainment, video games, a rock climbing wall and more. Admission to the public is free. The registration fee for cars is $15.00 in advance and $20.00 the day of the show. Proceeds will benefit the Doylestown Rotary Club Local Community Grants, The Travis Manion Foundation/The Wounded Warrior Fund and the Doylestown Fire Company.
5k Run/Walk and 1 Mile Family Fun Run
Quakertown Pool, 601 W. Mill Street, Quakertown
Registration starts at 7:00am
Join Quakertown for the annual Water on course. Food and refreshments for everyone, toilet facilities, finish line and timing service by Pretzel City Sports. Held rain or shine. No refunds or mailed awards. Results on www.pretzelcitysports.com in a few days. T-Shirt, Ribbon and Special Treat provided to each participant of the 1 Mile Kids Run. Walk up registration is acceptable if space is available. Race begins in the Quakertown Pool parking lot and loops on the flat, paved path through Quakertown Memorial Park and onto the streets of Quakertown. Proceeds benefit the Pride of Quakertown Youth Scholarship Program. All participants and their families will have free admission to the Quakertown Pool after the race.
The Lemon Ride
Central Bucks West High School, 375 West Court Street, Doylestown
8:30am – 1:00pm
The Lemon Ride is a charity bike ride to benefit Alex's Lemonade Stand Foundation for childhood cancer research. There will be a 10, 25, and 50 mile course to choose from as well as kids' activities and a cycling expo at the start/finish line. Lunch and snacks are included in registration.
The hills are alive! The Bucks County Playhouse continues its celebration of Rodgers and Hammerstein with a one-night only screening of The Sound of Music. This classic Julie Andrews film musical will be presented in glorious, full-screen Technicolor, complete with subtitles so that the whole audience can sing along!
Come in costume to be entered in the fancy-dress competition. Whether you're a drop of golden sun, girls in white dresses with blue satin sashes, or a pair of warm woollen mittens, show off your creativity! So all you nuns, governesses and lonely goatherds, warm up your vocal cords and join us for a few of our favorite things.
Layee-odl layee-odl lay!
Concerts in the Park
Memorial Park, 701 W. Mill Street, Quakertown
6:30pm – 8:30pm
Listen to the cool country sounds of Steel Creek Country Band at the Concert in the Park series. Raindate is Monday, July 23rd.
Sponsors: