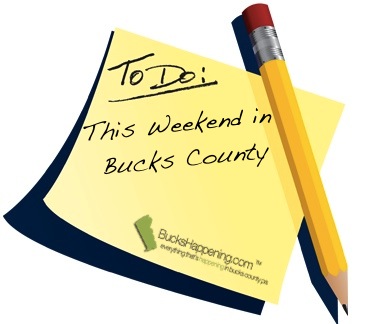 To avoid a midsummer slump, check out our guide for Thursday, July 26th, 2012 – Sunday, July 29th, 2012 to plan your weekend. We have included some of the best events happening in Bucks County this weekend. Also, make sure to check out more fun things to do on our sortable calendar of events & restaurant guide.
Tap Take-over with the Thomas Creek Brewery
Isaac Newton's, 18 S State St, Newtown
7:00pm – 9:00pm
Tap Take-over with the Thomas Creek Brewery! On Thursday, July 26th from 7-9 pm, we will be featuring the beers of the Thomas Creek Brewery helped by Wally Mattus from Nevulis Beverages, the local distributor of Thomas Creek! We're tapping several of Thomas Creek's award-winning beers including Class Five IPA (5.5%), Up the Creek Extreme IPA (12.5%), Appalachian Amber Ale (5.5%), Deep Water Doppelbock (6.25%), and Stillwater Vanilla Cream Ale (4.5%)! For each draft you purchase, you will be entered to win a growler to be filled with your choice from one of the Thomas Creek drafts. As usual, the expected tap line up is subject to change.
Midway Volunteer Firefighter's Carnival
5110 Route 202 across from Holicong Park, Buckingham
Starts at 6:30pm (also continues on through July 27th and July 28th)
Enjoy a family fun night at the Midway Volunteer Firefighter's Carnival! There will be games of chance, nightly prize drawings, rides, and great food served on the patio. Nightly drawings include HD televisions, a 50/50, and a grand prize of $10,000. Tickets are $3 each, 2 for $5, or 5 for $10. Proceeds of this event go to the Midway Volunteer Fire Company to help purchase new trucks, and equipment as well as the cost of daily operations. There will also be plenty of free parking available.
Trivia Night
The Perk, 501 E Walnut St, Perkasie PA
Starts at 8:30pm
Enjoy your Thursday night with Trivia Night hosted by Tom Shields! Trivia includes pop culture and much more. Perk gift certificates for first and second place. There will also be a variety of t-shirts, hats, and other fun prizes for participants.
Sweet Escape's Fifty Shades Girls Night Out
Sweet Escapes, 6 West Bridge St, New Hope
Starts at 7:00pm
Are you a fan, or maybe a really enthusiastic fan of the Fifty Shades of Grey Trilogy? Are you looking for a place to come together with other women and talk about the books, see what everything looks like that they mention in the books, and have a fun evening away from your responsibilities? You've just found it, at Sweet Escape, as they are kicking off their Fifty Shades Club (monthly) with a great night for you and your girlfriends. Join them for games, test your Fifty Shades trivia, compete for prizes, and join in their scavenger hunt through the store! Wine and other treats will be on hand, come on in and explore in a fun and comfortable setting of sophisticated intimacy. Please RSVP here by joining on Facebook at BeginYourSweetEscape, by calling the Sweet Escape at 215-862-9900 or emailing us at [email protected]
Wine Concert Series
Shady Brook Farms, 931 Stony Hill Rd, Yardley
6:00pm – 9:00pm
Don't miss the area's best outdoor concert venue! Enjoy music by local musicians, and wine tasting by Rose Bank Winery. Wine for sale by the glass or bottle. Cheese, crackers, and other yummy treats for sale in our Farm Market. Uncle Dave's Homemade Ice Cream and playground for kids. Fun for the whole family. And the best part–admission is FREE!
Also, The London Olympics kicks off on Friday. Don't forget to root for the Bucks County athletes representing the U.S. at the summer games!
Sarah Parvin 24 Hour Soccer Fest
Quakertown Soccer Fields, 221 California Rd, Quakertown
9:00am until 9:00am on July 29th
The Sarah Parvin Foundation and the Quakertown Soccer Club are holding their annual 24-hour marathon soccer festival as a fundraising event that benefits the American Cancer Society's Hope Lodge and Thomas Jefferson University Research team of Dr. Jonathan Brody, in memory of Sarah Parvin, a former QSC player who lost her battle with ovarian cancer at the age of 12. This year's celebration grows by having numerous food vendors, adding attractions such as water slides and carnival rides, and providing live music. The fun starts at 9:00am and doesn't stop until the next morning!
Monthly Outdoor Flea Market
Snipes Farm, 890 W Bridge St, Morrisville
8:00am – 12:00pm
Snipes Farm is hosting a monthly flea market-to be held the 4th Saturday of each month. Residence and business owners are welcome to sell their old and new things for sale. For more details, contact Colleen by calling 215-295-1139 x 102 or sending an e-mail to [email protected]
37th Annual Tour of the American Travelling Morrice
Lambertville, NJ and New Hope
Performances at 11:00am, 2:30pm, 3:30pm, and 4:30pm
The exciting sights and sounds of authentic English Morris Dancing will be on display along the Upper Delaware River Valley  as performers of the American Travelling Morrice present a weeklong series of shows in communities throughout Bucks, Mercer and Hunterdon Counties. The ATM is an international ensemble of dancers and musicians that has come together each summer since 1976 to offer authentic presentations of the Ritual Dances of the English Cotswolds in performances throughout the United States and England.
The Same but Different
The Upstairs Gallery, Shop 10 in Peddler's Village Courtyard, Rt 202 & Street Rd, Lahaska
11:00am – 6:00pm (continues on through August 24th, times will vary)
The Upstairs Gallery in Peddler's Village presents a unique two artist show, "The Same, but Different," featuring 2 artists. Lynda K. Boardman, a fabric art, pen, and ink artist, will be featuring art quilt collages as well as pen and ink drawings. Pat Slavek will be featuring watercolor art. The artists will be present on August 18, from 1:00 – 4:00.
Sponsors: