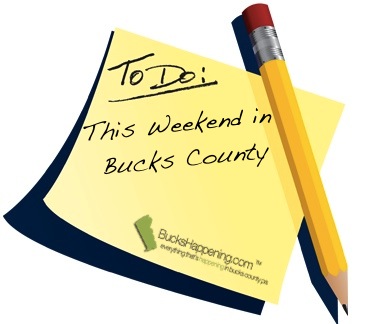 The summer heat is being brutal this week. To keep your mind off the temperature, check out our 2012 Summer Guide or our weekend guide for Thursday, June 21st, 2012 – Sunday, June 24th, 2012 below. We have included some of the best events happening in Bucks County this weekend. Also, make sure to check out more fun things to do on our sortable calendar of events & restaurant guide.
Monthly Poetry Night
Doylestown Bookshop, 16S. Main St, Doylestown
Starts at 6:30
Join us on the 3rd Thursday of every month for Poetry night! There will be specifically chosen poets scheduled to read at the start, followed by an opportunity to bring your own poetry for an open-mic setting. This month's featured poet is Daniel Elissi, who will be reading selection from his comics. Or picture poems if you prefer. If you are interested in being a part of this monthly event, contact Melanie Eyth at [email protected]
Lost in Yonkers (opening night)
Newtown Theater, 120 N. State Street, Newtown
Starts at 7:30pm (check out the website for all dates)
Winner of the 1991 Pulitzer Prize and Tony Award, Neil Simon's hit Broadway play is set in 1942 Yonkers. A desperate father works as a traveling salesman to pay off debts incurred after the death of his wife. He leaves his two young sons in the care of his stern, intimidating mother, his mentally challenged middle-aged sister, and his small-time hoodlum brother. Praised for its mixture of deep pain and indelible humor that strikes directly at the heart, this coming-of-age tale is deeply rooted in the themes of family survival and acceptance.
Delaware Canal Festival
Bristol Lagoon Park, Bristol
Starts at 7:00pm
Come join us for day one of the Delaware Canal Festival! There will be a decorated boat parade, a concert, and a illuminated wish boat float. For more information, visit the Friends of the Delaware Canal website.
Monophonics
Sellersville Theater, 24 W. Temple Ave, Sellersville
Starts at 8:00pm
If you like James Brown, Sly & the Family Stone and George Clinton's P-Funk, you'll love San Francisco's Monophonics! Their psychedelic soul harkens to the heavy funk stylings of late 60s, early 70s. Over the past seven years Monophonics have been creating a national buzz from Motown to the legendary New Orleans Jazz Fest among other major music festivals.  So start your summer with a totally funked up dance party!
Cycle Bucks County
New Hope-Solebury High School, New Hope
First race starts at 8:00am
Cycle Bucks County is a non competitive, organized fund raising bike ride presented for the benefit of local groups and organization. The 2012 event is raising funds for the Doylestown Hospital Heart Institute, and local chapters of the national Girls on the Run organization. Cycle Bucks County is open to all levels of cyclists, from beginner to serious. Participants can choose from three routes ranging in length from 10 to 60 miles, winding through the scenic roadways of Bucks County Pennsylvania. Rest stops and SAG support are provided on all routes.
Kids' Day
Kids' Castle, Central Park, 425 Wells Rd, Doylestown
11:00am – 1:00pm

Join us for a fun-filled day celebrating kids! We'll be at the picnic tables at Kids' Castle with lots of fun activities, crafts, and healthy snacks geared towards babies, toddlers, and kids! Come out for a day in the park and celebrate what being a kid is all about!
2nd Annual Concert for the Cure
Sellersville Fire Dept Picnic Grove, 2 N Main St, Sellersville
11:00am – 10:00pm
Come and enjoy 10 bands, food, merchandise vendors, and more at the 2nd annual Concert for the Cure! Tickets are $15 per person in advance and $20 per person day of the event. Admission is free for MPS adults and children. All proceeds benefit the national MPS Society in loving memory of Ryan Mask.
Steel Pony Fashion Show and Brunch
Earl's Bucks County, Route 202 & Street Road, Lahaska
Starts at 11:00am
Sublime Apparel of Peddler's Village presents the Steel Pony line in a gala fashion show and brunch. Steel Pony is a Philadelphia-based designer collection of hand made women's clothing that is funky yet classic for all women. Tickets are $32 and include the fashion show, the buffet brunch, discount coupons for Peddler's Village shops and a wine-and-cheese after party at Sublime Apparel. Reservations can be made by calling 215-794-9430 or emailing [email protected]
Sponsors: