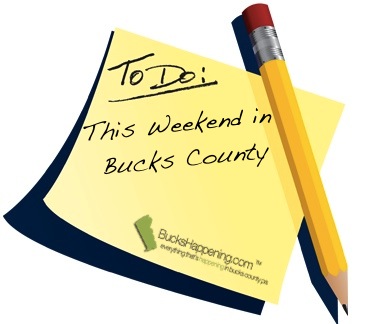 While A-Day is a pretty amazing event (check out our post about it here), maybe you're looking for something else to do. Check out our guide for Thursday, April 26th, 2012 – Sunday, April 29th, 2012 below.  We have included some of the best events happening in Bucks County this weekend.   Also, make sure to check out more  fun things to do on our sortable calendar of events & restaurant guide.
The First Annual 2012 Happening List Bash
560 Union Square Drive,  New Hope
7:00pm – 11:00pm
We're partying in style, rolling out the red carpet to celebrate the 2012 Happening List at Occassions! We're celebrating all of the 2012 Happening list winners and finalists! Our event is open to the public but space is limited so hope you've booked your tickets early. While there is no official dress code, you should be dressed to impress on the red carpet!
Back to the Beach free information session
Central Bucks Family YMCA, 2500 Lower State Road, Doylestown
7:30am – 8:30am
Summer is almost here, time to step it up! Come to our free information session and find out about our newest class "Back to the Beach."  Contact Valerie Tanner for full details, 215-348-8131, x1140.
Jazz Celebration Big Band
Temperance House, 5 South State Street, Newtown
Doors open at 7:30pm
Come celebrate jazz music with a 17 piece big band jazz orchestra at the Temperance House. They will be performing the repertoire of Count Basie, Stan Kenton, Buddy Rich, Maynard Ferguson and many more. Claudia Perry will be the featured vocalist of the evening. Cover charge is $10 and the event will take place in the banquet room. You certainly will want to make reservations for this night filled with jazz.
Ladies' Night Out Bingo
CB West High School, 375 West Court Street, Doylestown
7:00pm – 10:00pm [doors open at 6:00pm]
Help out the Big Brothers Big Sisters of Bucks County by participating in their Ladies' Night Out Bingo! Cost is $20 per person in advance and $25 per person at the door. Prizes include:  Coach handbags, Keurig w/ K-cups, Wegman's Gift Certificate, Silpada jewelry and more! Light Refreshments will be available. To register online, click here.
Graham Parker & the Figgs
Sellersville Theater, 24 West Temple Ave, Sellersville
Starts at 8:00pm
Graham Parker returns with his full electric band The Figgs. For nearly 30 years he's been slinging his signature sound, earning a spot in the pantheon of influential rock 'n' roll figures. Since his early days with The Rumour, Parker has coupled punk's energy with his deeply rooted love of American R&B, country and soul music. Graham was at the forefront of the new-wave movement since the mid-70s with the classic albums "Squeezing Out Sparks" & "The Up Escalator" and songs like "Protection", "Local Girls", "White Honey", "Heat Treatment", "Wake Up (Next to You)" & "Get Started, Start a Fire
Shad Fest
Lambertville, NJ
12:30pm – 5:30pm [also on Sunday, April 29th, 12:30pm – 5:30pm]

Each year the festival highlights our region's arts community, the City of Lambertville, the Delaware River, and of course, our favorite fish, the Shad! The Shad Festival has evolved from a local art show into a nationally recognized award-winning event. Shad Fest features the area's finest artists and crafters, great food and family entertainment, but the two-day extravaganza also serves as a venue for local non-profit organizations to raise necessary operating funds.
23rd Annual Civil War Re-Enactment
Neshaminy State Park, Bensalem
9:00am – 9:00pm [Continues on Sunday, April 29th from 9:00am – 4:00pm]
This event is the largest Civil War re-enactment on the East Coast outside of Gettysburg. The theme for this year's re-enactment is "Spring 1862 Campaign -1st Kernstown and 1st Winchester".  Over 1,000 re-enactors will converge on the park for this event featuring, authentic battle re-enactments, camp life scenarios, military and civilian life demonstrations, and performances by the Camptown Shakers, a band specializing in Civil War era music.  While admission is free, a voluntary collection will be taken each day of the re-enactment and all proceeds will go toward Civil War preservation efforts. For more information, go to www.neshaminycwevent.org, visit the Neshaminy Civil War Reenactment on Facebook or contact Ken Gavin, Event Chairman, at 610-291-0838 or [email protected]
Wet Nose Rescue Pet Fair 2012
Warminster Community Park, Warminster
10:00am – 3:00pm
Come join us for the First Annual Wet Nose Rescue Spring Pet Fair at Warminster Community Park.  We will have over 20 rescues and vendors attending, including the Mid-Atlantic Great Dane Rescue, Irish Setter Rescue, several German Shepard rescues, Finding Shelter and many more.  We will have K-9 Search and Rescue demonstrations as well as dog agility demonstrations.  Country singer Sherry Lynn will join us with her band from Sewell, NJ.  There will be a Cancer walk, doggy costume contest and great raffles.  Mark the date on your calendar!
Buckingham Flea Market
Holicong Park, Rte. 202, Holicong
8:00am – 2:00pm [Rain date is May 6th]
Come find treasures old and new, as well as local crafts and early plants.  Net proceeds will support the new Buckingham Community Garden and students growing fresh vegetables for local food pantries.  This event is sponsored by the Buckingham Twp. Civic Assocation. Visit www.buckinghampacivic.org or call 215-345-5355 for more information.
Peter Pan The Musical
The Yardley Community Center, 64 S. Main Street, Yardley
Starts at 4:00pm [Showings also occurring on Saturday, April 28th at 5:00pm and 8:00pm]
Acting Naturally presents….Peter Pan the Musical. A tale that never ages! Children and adults alike have all fallen under the spell of Neverland, a place where children can fly and exciting adventures happen every day. For tickets visit www.ActingNaturally.com.
These Local Businesses Support Our Community! Learn about our AccessPass Members: