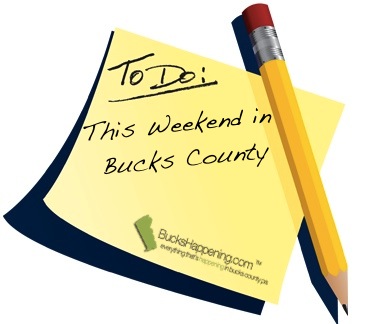 With the Doylestown Bicentennial Celebration well under way (more info can be found here), there is plenty to do in Bucks County this weekend. Check out our guide for Thursday, May 31st, 2012 – Sunday, June 3rd, 2012 below. We have included some of the best events happening in Bucks County this weekend. Also, make sure to check out more fun things to do on our sortable calendar of events & restaurant guide.
Bucks County Civil War Library and Museum Open House
32 North Broad St. at Garden Alley, Doylestown
10:00am – 3:00pm (also on Friday, June 1st through Sunday, June 3rd)
Take a tour of Civil War artifacts with uniformed guides and learn more about the War Between the States. Admittance is free but donations are appreciated.
200 Years of Fashion
Aldie Mansion, 85 Old Dublin Pike, Doylestown
Starts at 7:00pm
Please join us to celebrate the fashion and history of our town from 1812 to 2012. You will see some of our famous citizens intermingled with some infamous and not-at-all famous but beautifully dressed ones! All this will take place in the elegant Aldie Mansion. William Mercer will be there to welcome you into his home, and if the weather cooperates, you will be able to stroll in his garden.
24th Annual Tyler Tasting Party
Tyler Mansion, Bucks County Community College, 275 Swamp Road, Newtown
6:30pm – 10:00pm
Join us for our annual Tyler Tasting Party which features food, wine and spirits from 40 of Bucks County's finest restaurants, wineries, breweries, bakeries and caterers.  Proceeds benefit Bucks County Community College Foundation's historic preservation scholarships and restoration of Tyler Mansion. The cost is $125 per regular ticket or $175 per VIP ticket. If you purchase 5 tickets, you get the 6th ticket free! $175 includes VIP Reception. For more information or to purchase tickets, visit us here, or e-mail [email protected], or call 215-968-8224.
Philly Beer Week Launch
Isaac Newton's, 18 South State Street, Newtown
6:00pm – 8:00pm
To kick off Philly Beer Week 2012, we are honored to host the incomparable Suzy Woods and the Allagash Brewing Company! Suzy will be taking over the taps as we will be pouring Odyssey (10.4%), Black (7.5%), Four (10%), Tripel (9%), Blond (8.2%), Saison Mihm (8%), Old HLT (7%), Yakuza Ale (8.7%), Curieux (11%), and White (5%). It's an amazing array of beers from a world-class brewery that should not be missed! We might be giving away some free stuff as well! So, there's no reason to go downtown to get PBW started!
Sycamore Street Summerfest 2012
Sycamore Street, Newtown
12:00pm – 9:00pm
From a corvette show to the annual strawberry festival, Sycamore Street Summerfest 2012 is not an event to miss! A family fun event to kick off the summer in Newtown with local vendors, great food, face painting, and more! Here is a breakdown of what is happening when:
Summerfest 3:00pm – 9:00pm
Corvette Show 1:00pm – 7:00pm
Strawberry Festival 12:00pm – 4:00pm
Benefit for Keith Matteson
Maennerchor Field, 3700 Cold Spring Creamery Rd, Doylestown
1:00pm – 7:00pm
Please join us for a benefit picnic for Keith Matteson, Dispatcher for Central Bucks School District. This picnic will help offset medical bills and assist his wife and two small children during this difficult time. The picnic will include volleyball, karate, baseball and/or softball, vendors, door prizes, food, drinks (soft drinks and beer), 50-50 raffle, Doylestown Adventure Bootcamp for Kids, Caricatures By Bob Miele, Music By HEAVEN BOUND.  Lots of fun for all ages! Donations are $20 per adult and $5 per student. Children 6 and under are free.
Mad Hatters Benefit and Auction for Tyler Park Center for the Arts
Tyler Park Center for the Arts, 10 Stable Trail Rd, Richboro
Starts at 7:00pm
Support Art Education and Expression as we raise vital funds for capital improvements and programs while listening to wonderful music, eating gourmet delights and having a glass of wine or beer with the wonderful people at the Barn in Tyler State Park. Celebrate our partnership with Autism Cares Foundation! Enjoy our Silent and Live Auctions featuring fine tea items and accoutrements, along with garden art and accessories. Prizes for the most original and outrageous hats! Call  267-218-0290 or [email protected] for tickets, which are $50 per person in advance and $60 per person at the door.
Book Signing with Big Al Meltzer
Doylestown Bookshop, 16 S. Main St, Doylestown
1:00pm – 3:00pm
Join us as we have legendary sportscaster Big Al Meltzer and co-author Robert Lyons in to sign and discuss their book, Big Al: 50 Years of Adventures in Broadcasting. As Meltzer so vividly describes in his exhilarating autobiography, he may be the only person in broadcasting history to have experienced everything in radio and television during  a career that began in Syracuse and Buffalo and continued to the major markets of Philadelphia and Chicago. It is believed that he is the only sportscaster to have worked at five TV stations in the same city. He has witnessed television grow from its infancy to the breathtaking technological advances of satellite television.
2nd Annual Bully Awareness Walk
Falls Township Park,  9125 Millcreek Rd, Levittown
10:00am – 4:00pm
This event helps support The Peace Center and provide funding for the bullying prevention programs we provide to local schools.    Join us for fun, food, and music, as we raise awareness of the impact that bullying and cyberbullying are having on our youth. Maxwell from Q102 will be part of the festivities! Check out the website for more information or to register.
Sponsors: