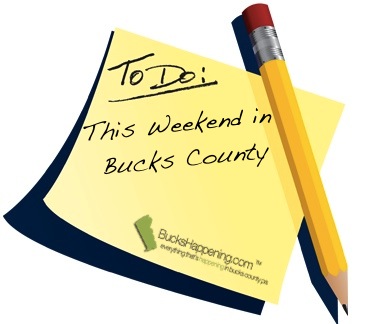 With April showers behind us, we can finally get to the May flowers! Check out our guide for Thursday, May 3rd, 2012 – Sunday, May 6th, 2012 below.  We have included some of the best events happening in Bucks County this weekend.   Also, make sure to check out more  fun things to do on our sortable calendar of events & restaurant guide.
Free Community Yoga Class
The Solebury Club, 4612 Hughesian Dr, Buckingham
11:30am – 12:30pm
Free Community Yoga Class offered at the Solebury Club every Thursday 11:30am -12:30.  Variety of instructors and styles of yoga offered each week.  All levels welcome and free child care is provided. For more info call 215 794-3494 or visit the Solebury Club website
Smokin' Joe Kubek w/ Bnois King
Sellersville Theater, 24 West Temple Ave, Sellersville PA
Starts at 8:00pm
Pennsylvania born and Dallas raised Joe Kubek and Louisiana's Bnois King have been thrilling music fans around the world for 20 years. Getting his start by playing rhythm guitar behind Freddie King, Kubek delivers a frenzied, flame-throwing fretwork display that's tempered by the remarkable accompaniment of Bnois King's jazz influenced guitar and soul tinged vocals. The two create a one-two punch of raw, tough, blues-rock filled with intensity and purpose!
First Friday Doylestown
Doylestown
6:00pm – 9:30pm
A gala evening of art and music, a wonderful night to stroll our beautiful downtown. Follow the yellow flags to join the festivities. Merchants are open late to exhibit work from local artists and invite you to enjoy the sounds of local musicians. So bring your family and invite your friends for art's sake! Click here for a list of participating businesses.
Jubilate! A Celebration in Song
Trinity Episcopal Church, 6587 Upper York Rd, Solebury
Starts at 8:00pm
Continuing the theme of the current concert season, "Jubilate/Rejoice," Cantus Novus presents a  joyous evening of choral music celebrating love, the earth, music, and the soul. With works spanning the centuries from the Renaissance to the present day, it will feature Britten's "Rejoice in the Lamb," and showcase works by contemporary composers Gwyneth Walker, Ola Gjeilo, Matthew Peterson, and Richard Waters. The concert closes with Ko Matsushita's fabulous "Jubilate Deo," the same piece which opened the December concert, bringing the cycle to an end. Don't miss this chance to hear Bucks County's finest chamber choir pull out all the stops! Tickets are $20 for general admission and $10 student admission. Purchase tickets online, from any chorus member, by phone (215-968-3414) or at the door. There will also be a performance on Saturday, May 5th at Newtown Presbyterian Church 25 N. Chancellor St. Newtown, PA 18940 starting at 8:00pm.
Carousel Village Grand Opening
Carousel Village, 591 Durham Road (Route 413), Wrightstown, PA 18940
11:00am – 4:00pm
Join Carousel Village for their Grand Opening Extravaganza this weekend! The event includes ONE (1) free ride on the Carousel, Mini Ice Cream Cones, Crafts, Balloon Twisting and Face Painting.  Bring the family and have a picnic!
BCHG Second Annual Mother's Day Tea
Tyler Mansion, Bucks County Community College, 275 Swamp Road, Newtown
1:00pm – 4:00pm
Please join BCHG as we enjoy delicious teas and savor treats at the Second Annual Mother's Day Tea and Open House at Tyler Mansion on the campus of BCCC. Artisans and unique vendors will be on hand to offer items for that special woman in your life.  Exciting gift baskets will be raffled. Tickets are $20/adults, $10/students & $5/children. Purchase Online in advance at the BCHG website or at the event.
Peddler's Village Strawberry Festival
Peddler's Village, Routes 202 & 263, Lahaska
10:00am – 6:00pm [Also occurring on Sunday, May 6th from 10:00am – 6:00pm]
As Peddler's Village marks its 50th anniversary in 2012, the annual Strawberry Festival is still full of festive foods, exciting family entertainment and the same warm country hospitality as the first festival. The admission and parking are free and the festival is held rain or shine. Tented carts offering strawberries prepared in every way possible line the winding brick pathways of the Village, from cream-topped strawberry shortcakes and freshly baked pastries to warm strawberry fritters, strawberry preserves, and pies overflowing with the luscious fruit.
Welcome Day Celebration
Sycamore Street, Newtown
11:00am – 4:00pm
The annual Welcome Day Celebration is back again in full force. This family-friendly event features games, food, and a variety of entertainment. Gather information on local businesses and be entered in giveaways! There will be an art show of works by local artists as well as the annual Rising Stars competition.
Free Community Concert
Delaware Valley College, 700 East Butler Ave., Doylestown
Starts at 3:00pm
The Delaware Valley College Concert Band joins forces with the Washington Saxophone Quartet to perform Bob Mintzer's thrilling Rhythm of the Americas.  This composition was inspired by the composer's life as a young musician growing up in the New York area, specifically his experience playing with Latin bands, big bands, symphony orchestras, pop and R and B bands.
Sponsors: