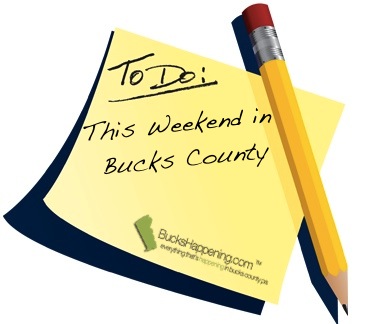 Plenty to do this weekend in Bucks County! Need a little help with your planning? Then check out our weekend guide for Thursday, November 26th, 2015 through Sunday, November 29th, 2015 below. We have included some of the best events happening in Bucks County this weekend. Also, make sure to check out more fun things to do on our sortable calendar of events & Holiday Guide 2015.
Customers Bank BCRR Thanksgiving Day Five Miler
16 Summit Sq Shopping Cntr, Langhorne
9:00am
26th Annual Customers Bank BCRR Thanksgiving Day Five Mile foot race and one mile fun run conducted by the largest running club in Bucks County, Pennsylvania. Five Mile course runs from Summit Square Shopping Center through streets of Middletown Township to Core Creek Park and back. Fairly flat, accurately measured "keyhole" course. Mile Fun Run is out-and-back.
Workout For Hunger
Action Karate (Jamison, Feasterville, Chalfont), 2235 York Rd, Jamison, PA
6:00am & 7:00sm
Zen Fitness, a group personal training program with three locations in Bucks County, is holding a Workout for Hunger on Thanksgiving morning to raise funds for Philabundance, the Delaware Valley's largest hunger-relief organization. The Workout for Hunger is a way for community members to help their neighbors in need this holiday season, with the added benefit of burning some extra calories before sitting down to their Thanksgiving.
The North Pole Express
32 West Bridge Street, New Hope
Rides start 11:00am
Take a ride on the New Hope Railroad with Santa. The trip includes hot chocolate, refreshments, and individual visits with Santa, as well as local musicians leading Christmas carols and kids are welcome to come dressed in their pajamas.
Bristol Tree Lighting
100 block of Mill Street, Bristol
6:30
Historic Bristol Borough is gearing up for its annual riverside tree lighting ceremony which promises to be bigger and better than ever. Enjoy an Old Fashioned Christmas Tree Lighting and caroling on the wharf.
Wreaths & Greens Workshop
Pennsbury Manor, 400 Pennsbury Memorial Rd , Morrisville
10:00 am & 1:00 pm
Make a fragrant evergreen wreath to take home. Our horticulturist will also share tips about how to prune and care for a variety of evergreen trees and shrubs in the home landscape. Bring Clippers. Pre-registration required. Two workshops – 10:00 AM – 12:00 PM & 1:00 PM – 3:00 PM. Cost is $35.00 per person.
Gingerbread House Decorating
Market at DelVal, 2100 Lower State Rd, Doylestown
1:00pm
Love decorating a gingerbread house, but not the clean up? Leave that to those at the Market at DelVal! Bring your creativity and they will supply the rest. Reservations are required. Fee: $29.99 / house
A Rat Pack Christmas Show
Sellersville Theater, 24 W. Temple Ave, Sellersville
Doors open 12:30pm, Show starts 1:00 pm
The Rat Pack returns for a special Christmas performance! Experience the magical recreation of this legendary trio on Sunday Nov 29, 2015 at the Sellersville Theater. Renown Rat Pack impersonators Johnny Petillo, Tony Sands, and Geno Monroe pay tribute to the legendary careers and antics of Frank Sinatra, Sammy Davis Jr., and Dean Martin through a wonderful mix of song, comedy, sketches, and brilliant musical arrangement. The show features holiday classics as well as the memorable music created when the Rat Pack united on film and television. Don't miss this one-of-a kind holiday tribute!
These Local Businesses Support Our Community! Learn about our AccessPass Members: