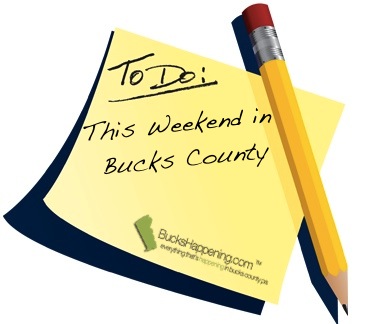 For those of you looking beyond the annual Middletown Grange Fair, check out our guide for Thursday, August 16th, 2012 – Sunday, August 19th, 2012 below. We have included some of the best events happening in Bucks County this weekend. Also, make sure to check out more fun things to do on our sortable calendar of events & restaurant guide.
Middletown Grange Fair
576 Penns Park Road, Wrightstown
10:00am – 10:00pm
You know you're from Bucks County when the smell of hay or the sight of a cow bring on an insatiable craving for carnival food. Two little words are sure to get you excited… Yes, we're talking about the "Grange Fair!" The 2012 Middletown Grange Fair, now running for 64 fun-filled years, kicks off Wednesday, August 15th and runs through the 19th. Enjoy a day and night of games, rides, food, and homemade goods!
NOVA Thrift Shop New Home Alone
NOVA Thrift Shop, 1628 Swamp Road,  Fountainville
Monday–Saturday 10:00am – 5:0opm; Sunday 12:00pm – 5:00pm (Continues through September 30th)
If you're setting up a household for the first time – whether dorm room, apartment or first house – it's hard to believe the day might come when you'd have more toasters, mixing bowls, curtains, towels, flatware or drink glasses than you need. And if you've been keeping house for years, you probably wonder how you accumulated so much stuff! This is where NOVA Thrift Shop comes in to save the day with a special shopping event for those who are looking to outfit their first residence. All sales support the programs and initiatives of Network of Victim Assistance.
Family Concerts in the Park
Hansell Park, Buckingham, PA
Starts at 6:30pm
Join the students of the Community Conservatory as they perform a free show in Hansell Park.
Friends of the Library Book Sale
Yardley-Makefield Branch Library, 1080 Edgewood Rd, Yardley
10:00am – 5:00pm (occurring on other dates as well)
Join the Friends of the Yardley-Makefield Library in supporting the library by coming to their book sale. Children's books range from $0.50 to $2.00 and adult mass market paperbacks are $1.00. All other adult books, DVDs, music CDs, audio books, VHS sets, puzzles and games start at $3.00 and drop to $1.00 by August 21st. For everyone's safety, no food or drink will be allowed in the sale room. Due to potential crowding, it is recommended that strollers be left at home.

Revolutionary War Reenactment
Moland House, 1641 Old York Rd, Hartsville
10:00am – 11:ooam
Each year the Warwick Township Historical Society hosts a reenactment to commemorate the August 10 to August 23, 1777 encampment of Washington and 11,000 Continental troops just prior to the Battle of Brandywine. The event features the Fifth Pennsylvania Regiment demonstrating the life and times of Revolutionary War soldiers. Also included are 18th Century craft demonstrations, music, puppet shows, and tours of the Historic Moland House. Cost is $5.00 for adults, $4.0o for those 62 years or older, $2.00 for youths ages 5-12, and $10 for families (parents and kids).
Registration from 3:00pm – 5:00pm, show from 5:00pm – 9:30pm
Join Perkasie Olde Towne Association and The Good-Time Motorvators for the 14th annual Under the Stars Car Show. Have good time with music, food, fun, and cars! Registration is at 7th and Spruce Streets and dash plaques for the first 200 cars to pre-register
.
Runaway Broadway
Bristol Riverside Theater,120 Radcliffe Street, Bristol
Show starts at 3:00pm (check Bristol Riverside Theater website for other showings)
Enjoy an afternoon of classic Broadway hits with a special tribute to Jerry Herman and Stephen Sondheim. Herman is best known for shows like Hello Dolly, Mame, and La Cage Aux Folles. Sondheim is the winner of more Tony Awards than any other composer for such musicals as A Little Night Music and Sweeney Todd. Beat the August heat as you enjoy these Broadway favorites!
Concerts in the Park
Al Reese Park, 100 West Park Avenue, Silverdale
2:00pm – 4:00pm
Enjoy an evening with the Quakertown Band, who is celebrating their 135th Anniversary. Refreshments will be made available for purchase. The rain date for this event is August 26th.
Sponsors: