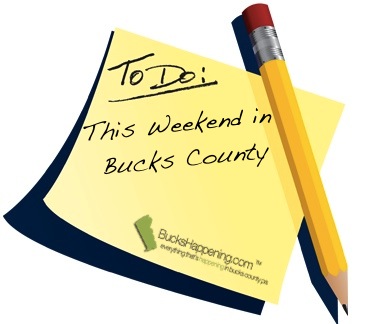 Half way through October and still plenty of events to go to! Check out our guide for Thursday, October 11th, 2012 – Sunday, October 14th, 2012 below. We have included some of the best events happening in Bucks County this weekend. Also, make sure to check out more fun things to do on our sortable calendar of events, restaurant guide, and 2012 Fall Guide.
Harriman and the Merchant Shipbuilding Corporation: The Rise of a Community
Margaret R. Grundy Memorial Library, 680 Radcliffe St, Bristol
6:00pm – 8:00pm
The Margaret R. Grundy Memorial Library, 680 Radcliffe Street, invites the public to the exhibit, Harriman and the Merchant Shipbuilding Corporation: the Rise of a Community, commemorating the Harriman Shipyard and the town that grew with it. The WWI-era Harriman village is part of Bucks County's rich contribution to planned communities. The exhibit event begins Thursday, October 11th with an opening reception from 6:00 to 8:00 pm and continues through Saturday, November 3, 2012 during regular library hours.
Oleanna
Bristol Riverside Theatre, 120 Radcliffe St, Bristol
Starts at 7:30pm
From Pulitzer Prize winner David Mamet comes this riveting drama in which academic power and sexual politics collide. When Carol, a struggling college student, meets privately with her professor, he consoles her with a pat on the back and a promise that her grade will improve if she continues to meet with him regularly. But his world begins to unravel when she reports his behavior and accuses him of sexual harassment. He desperately tries to convince her that she has misinterpreted his intent. Or has she?
Cocktails at the Castle
Mercer Museum, 84 South Pine Street, Doylestown
6:30pm – 10:30pm
Join the Mercer Museum as they unveil new fall gala – Cocktails at the Castle: A Savory Exploration to Benefit the Mercer Museum. In keeping with the tradition of the former Savory Sampler, the evening includes food and beverages prepared by our area's finest restaurants, caterers, bakeries, wineries, and breweries. In addition, silent and live auctions provide the opportunity to bid on unique experiences and spectacular items. Artwork and handcrafted items, gift certificates for jewelry and dining, admissions and memberships to area cultural attractions, as well as a variety of gift baskets will also be offered. Throughout the gala, musical entertainment can be enjoyed.
Fall Ghost Tours
Historic Langhorne Association Building,
Tours starting at 7:00pm, 8:00pm, and 9:00pm (Also on October 13th, same times)
Join the Historic Langhorne Association for their annual Fall Ghost Tours. Tours are approximately one hour long and begin at the Historic Langhorne Association building. Tickets are $8 for adults and $5 for children under the age of 12.
Annual Oktoberfest
Isaac Newton's, 18 S. State Street, Newtown
12:00pm – 3:00pm
Come join us for our annual Oktoberfest celebration on October 13th from 12 – 3 pm! Tickets are only $35 and are required. Your ticket gets you: – glass mug – Isaac's Oktoberfest t-shirt – authentic German buffet – 2 draft beers – live accordian music – chances to win some cool prizes! – and great people to hang out with! We'll be featuring plenty of delicious German-style beers on draft all day long and maybe a few specialities only available for Oktoberfest guests! We had over 80 attendees last year so get your tickets today!
Wine Festival at Peace Valley Holistic Center 
224 Old Limekiln Road, Chalfont, PA
Local wineries are teaming up to benefit the Special Needs Children Services Grand Fund, which provides services to local economically distressed families.  Head to Chalfont to enjoy Crossing Vineyards, Sand Castle Winery, Rose Bank, and Peace Valley Wines with live music and a food by New York Chef Monica Sellecchia.
Bucks County Cabaret
Bucks County Playhouse, 70 South Main Street, New Hope
Cocktails at 6:00pm, Performance at 7:00pm
Join stage and screen stars Bebe Neuwirth and Malcolm Gets as they come together for Broadway Cares/Equity Fights AIDS at Bucks County Cabaret, a one-night only benefit concert at the newly renovated, historic Bucks County Playhouse. The evening will feature your favorite Broadway standards and popular songs. The evening will begin with cocktails at 6 pm, followed by the 7 pm performance and live auction inside the playhouse. A VIP reception with the artists will be held following the performance at The Inn at Barley Sheaf in Holicong, PA
Chalfont New Britain Business Alliance Market Day
Chalfont Village Square, E. Butler Ave, Chalfont
10:30am – 2:00pm
Chalfont New Britain Business Alliance presents the Second Annual Market Day taking place on October 13th from 10:30am to 2:00pm. This event brings together the Chalfont New Britain business and residential community with activities for children, refreshments, give-aways, entertainment and a fabulous farmers' fall foliage display, exhibits from our local shops and services and music provided by Cherry Lane Band.
HorrorFest
Shady Brook Farm, 931 Stony Hill Road, Yardley
7:00pm – 9:00pm (Occurring every Friday, Saturday, & Sunday in October)
In a dark corner of Eastern Pennsylvania, awaits Bucks County's most haunted farm–Shady Brook Farm. Shady Brook has spent decades sowing fear, now reap the terror lying in its fields at HorrorFest. HorrorFest features four thrilling attractions: the Hayride of Horror, Barn of Horror, 3-D Alien Encounter, and Carnage. Can you handle the harvest?
Sweet Edge Sculpture Tour 2012
New Hope, Doylestown, Pipersville, and Stockton (NJ)
10:00am -5:00pm (also on October 13th, 10:00am – 5:00pm)
Six of New Hope area's finest contemporary 3-D artists open their studios and sculpture gardens to the public, presenting recent works in stone, steel, copper and bronze. The self-guided tour is free and artwork is for sale at all locations. Featured artists are, George Anthonisen, Constance Bassett, David Cann, Raymond Mathis, John McDevitt, and Steven Snyder. Studios are 5 to 15 minutes apart along some of the most scenic river and country drives in Bucks County. Visit www.sweetedgesculpture.com for all 5 studio locations and more information or call 267-337-1818.
Sponsors: