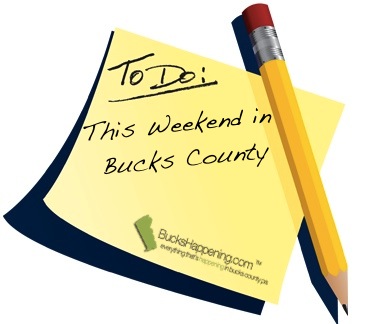 After getting our first taste of some fall weather this week, we are sure you are ready for the weekend! Check out our guide for Thursday, September 13th, 2012 – Sunday, September 16th, 2012 below. We have included some of the best events happening in Bucks County this weekend. Also, make sure to check out more fun things to do on our sortable calendar of events & restaurant guide.
Martin Guitar Event
Bucks County Folk Music Shop, 40  S. Sand Rd, New Britain
6:00pm – 8:00pm
Bucks County Folk Music Shop, the oldest acoustic stringed instrument store in America with the same owner and operator, along with C.F. Martin & Company, Inc., the oldest surviving maker of guitars in the world, are co-hosting and event featuring a performance and talk by Martin Artist Craig Thatcher and Martin Factory Representative David Evans. There will also be an opportunity for guests to audition many unique Martin Guitars.  This event is free and open to the public.
Chris Thomas King
Sellersville Theater, 24 W Temple Ave, Sellersville
Starts at 8:00pm
Baton Rouge born Chris Thomas King is a Grammy and CMA winning bluesman, film composer and actor.  Starting as rhythm guitarist for musicians like Lowell Folsom and Joe Tex, Chris made his national TV debut on Letterman and major acting debut in the Coen brothers' "O Brother, Where Art Thou," gaining him a mainstream audience.  That soundtrack for the movie reached #1 on Billboard charts and King performed multiple sold out "Down from the Mountain" concerts with Alison Krauss, EmmyLou Harris, Ralph Stanley and more.  Also co-starring in "Ray" – about the legendary Ray Charles – King recorded the soundtrack score, which won several Grammys and an Oscar.  Chris's latest CD is the country influenced "Antebellum Postcards."
Charles Dickens 200th Birthday Celebration
Byers' Choice, 4355 County Line, Chalfont
Starts at  5:30pm (continues on through September 15th-16th, 9:00am to 5:00pm)
In celebration of Charles Dickens' life and work, Byers' Choice will host a special event with Dickens-themed activities including performances by Gerald Charles Dickens.
Scarecrow Festival
Peddler's Village, Lahaska
10:00am – 6:00pm (also on September 16th, 10:00am – 6:00pm)
A fall festival for the whole family! Live entertainment and pumpkin pie eating contests will be held on both days. Stroll among the many colorful scarecrows on display throughout the village. The annual scarecrow-making workshop has been a family favorite for years. For those who are interested, a pumpkin painting workshop will be held on Sunday.
21st Annual Doylestown Arts Festival
Doylestown
10:00am – 5:00pm (Also on September 16th, 10:00am – 5:00pm)
Don't miss the largest outdoor, juried arts and crafts show in the Doylestown area! The Doylestown Arts Festival draws thousands annually for a weekend of live entertainment, diverse and distinctive food, and original arts and crafts. The two-day juried festival features artisans showcasing their creative works – jewelry in a variety of mediums, clothing, furniture, accessories, pottery, photography, paintings and more!
The Village Renaissance Faire
Middletown Grange Fairgrounds. Penns Park, Wrightstown
11:00am – 6:00pm (Also on September 16th, 11:00am – 6:00pm)
One weekend every year, the fairgrounds are transformed into the ultimate family festival, with stories, intrigues, history, crafts, varied entertainment, ad interactive play. The Village has all the entertainment, crafts, foods, and history befitting the interest and entertainment of everyone, from peasantry to nobility. The Village consists of eight stages and various sets: Merchant Squares, Living History Pavilions, Food Courts, Gaming area, Multi-cultural enclaves, Craft Corners, and Kid's Kingdom.
All You Can Eat Pig Roast
The Lumberville General Store and Black Bass Hotel
11am – 6pm
A prime viewing area for the Thompson Bucks County Classic on Saturday, September 15th, 2012. 150 professional cyclists will begin in New Hope and head to Carversville for six grueling laps of a 13.8-mile circuit. The Lumberville General Store will host an All-You-Can-Eat Pig Roast beginning at 11:00am where spectators can view the race and enjoy a great meal at a great price. The $25 Adult price includes 2 beer or wine tickets plus food or  the cost for food only is $20 for Adults and $10 for Children, 12 and under.   
Bristol Borough Golden Oldies Concert
Municipal parking lot behind Mill Street
Bristol
6pm – 10pm
Bristol Borough will host music legends The Trammps, Jay Siegel's Tokens and Gary Tosti on Saturday, September 15, 2012 at the 7th Annual Golden Oldies Concert in the Park.  This event has become a much anticipated annual event that showcases Bristol Borough's efforts to promote the arts.
Pennridge Gallery of the Arts Art Show
Main St, Sellersville
12:00pm – 5:00pm
Attention all Artist & Crafters! Join Sellersville for the 44th annual Pennridge Gallery of the Arts art show and craft sale. Spaces are available for artist and crafters. Enter for a chance to win cash prizes or sell your wares! Additional information and registration forms are available on the Pennridge Gallery of the Arts website.
The Women Owned Business Expo
The Sportsplex, 1331 Oreilly Dr, Feasterville-Trevose
10:00am  – 5:00pm
Dedicated to helping women find the way to start their own business. Admission is free! There will be guest speakers, presentations, raffles, & gift bags.
Sponsors: