It's one of the last weekends before school is back in session, but the fun isn't over yet. Check out this weekend's happenings. From one of the oldest car shows in America to a kid's fishing tournament, there's a lot to see and do in Bucks. Happy weekend!
---
Arthropalooza!
When: Saturday, August 14th, 11 am – Sunday, August 15th, 4 pm
Where: Churchville Nature Center, 501 Churchville Lane, Churchville, PA
Churchville Nature Center is hosting a weekend of insects and arthropods. You will see live tarantulas, a bee keeping demonstration, and hissing cockroach races. There will be a scavenger hunt for children, as well as other games and activities. Tickets are available for purchase at the door.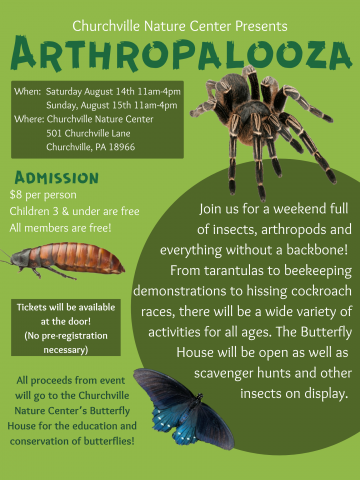 Kid's Fishing Tournament
When: Saturday, August 14th, 9 am
Where: Nockamixon State Park, Quakertown, PA
The Friends of Nockamixon are holding a fishing tournament for children ages 5-14 to learn how to fish. All participants will receive fishing items and bait. Poles are available for loan and trophies and prizes will be awarded. Contact [email protected] (610) 509-1162 to participate.
Family Adventure Tour
When: Sunday, August 15th, 12 pm – 4:30 pm
Where: Glencairn Museum, 1001 Cathedral Road, Bryn Athyn, PA
Discover how herbs were used in the Middle Ages, train for a medieval battle, apprentice to become a scribe, stonemason or stained-glass artist and explore practices of Europe in the Middle Ages. This is a choose-your-own-adventure style tour and if you collect all six badges by completing all paths, you will become a Glencairn Museum Adventurer! This event is suitable for families and children grades 3 – 8 and up. Participants will receive a booklet describing the adventures. Reservations are strongly recommended. Get your tickets here.

Legacy at Shady Brook Farm
When: Friday, August 13th, 6:30 pm – 10:00 pm
Where: Shady Brook Farm, 931 Stony Hill Road, Yardley, PA
Hit the dance floor at Shady Brook Farm with Legacy this Friday night! This 9-piece professional line-up brings high energy to keep the dance floor packed at all times. Get ready for a seamless journey through the decades of top 40 popular hits: From current radio chart toppers, to 90's favorites, throwbacks, and classic rock staples. Bring your dancing shoes! This weekend at Shady Brook Farm, you can also visit the Sunflower Fields and pick your own peaches.
The 2021 New Hope Automobile Show
When: Saturday, August 14th – Sunday, August 15th
Where: 180 W. Bridge Street, New Hope, PA
One of the oldest car shows in America takes place on Saturday and Sunday in the charming river town, New Hope. The domestic vehicles show on Saturday and foreign vehicles show on Sunday. Visit the website for updates. The show hours are 9 am – 4 pm on both days.
Beer Fest at Fonthill Castle
When: Saturday, August 14th, 2-5 pm
Where: 525 E Court Street, Doylestown, PA
This Saturday, Fonthill Castle is hosting the annual end-of-summer Beer Fest fundraising event. There will be local craft beers, music by Billy & Miles, light bites catered by Chambers 19 Bistro and Bar, and a commemorative beer-tasting glass. This event supports the preservation of The Mercer Museum and Fonthill Castle and educational initiatives. The outdoor, afternoon event welcomes anyone over the age of 21. Get your tickets here.
We Are Supported By: