Between the rain and the heat, I think we can all agree that it's been a long week. Another weekend is here and there's plenty to do in Bucks County. Enjoy live music, grab a pizza cone, attend a show or visit your local farmer's market. Here's just a few fun events happening this weekend.
Market in the Vineyard
Wycombe Vineyards
When: Saturday, July 17th, 12:00 pm – 4:00 pm
Where: 1392 Forest Grove Road, Furlong, PA
Sip wine and shop a variety of local small businesses who will be showcasing their products and selling their merchandise throughout the outdoor market. Enjoy a glass of Wycombe wine or a handcrafted cocktail from Sator Square Distillery while you browse the market. Food will be available for purchase, as well. Outside seating is available and is first come, first serve. Feel free to bring your own chairs and blankets to enjoy the vines.
Totally Awesome 80's
Bristol Township Amphitheater
When: Friday & Saturday 8:00 pm, Sunday 3:00 pm
Where: 2501 Bath Rd, Bristol, PA
Put on your best 80s outfit and enjoy outdoor music at the Bristol Township Amphitheater filled with hits from the 1980s. Take a journey down memory lane with some of the greatest hits from Broadway and more. Bring a lawn chair or blanket. Chairs and blankets will also be available for purchase on-site. Food trucks will also be on premises. Learn more about the event here.
Sip and Sketch
Chimayo Gallery – 2021 Happening List Winner!
When: Saturday, July 17th, 10:00 am – 12:00 pm
Where: 21 N 7th Street, Perkasie, PA
Grab your teenager, your best friend, your parent or treat yourself to a painting event at Bucks Happening List Winner, Chimayo Gallery. Call (267) 733-5012 to register. Price includes all + a goody bag.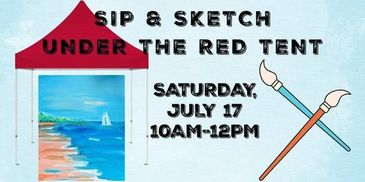 Kono Pizza
When: Friday, Saturday & Sunday
Have you tried Kono Pizza yet? This weekend, catch the Kono Pizza truck around Bucks County. Friday, 7/16, the truck will be at the Bolton Mansion Food Truck Fest in Levittown from 5-8 pm. On Saturday, 7/17, the truck will be at the Bristol Amphitheater from 7-10 pm and on Sunday, 7/18, the truck will be at Bucks County Brewery in Pipersville from 1-6 pm.

The Sorcerer Musical Comedy
Delaware Valley University
When: Friday 8 pm, Saturday 2 pm & 8 pm, Sunday 2 pm
Where: 700 East Butler Avenue, Doylestown, PA 18901
Catch a performance of musical comedy, The Sorcerer at Delaware Valley University this weekend. There will be a full orchestra accompanying the songs and characters. This is a fun-filled event for the whole family. The show is directed by Bob Binkley and Henry Heymann and accompanied by the Bucks County Gilbert & Sullivan Orchestra under the baton of Lee F. Milhous and produced by Bill Buckman and Ed Connolly. Get your tickets
here
.
Head to the Farmer's Market
Wrightstown Farmers Market
When: Saturday, July 17th, 10 am – 1 pm
Where: Middletown Grange Fairgrounds, 576 Penns Park Road, Newtown
Doylestown Farmer's Market
When: Saturday, July 17th, 9 am – 2 pm
Where: 2-50 S Hamilton Street, Doylestown
Yardley Farmer's Market
When: Saturday, July 17th, 9 am – 12 pm
Where: Buttonwood Park, Buttonwood Drive, Yardley
Bolton's Farm Market – 2021 Happening List Winner!
When: Saturday, July 17th, 9 am – 4 pm
Where: 1005 Route 113, Silverdale
Check out our 2021 Farmer's Markets Guide!
We Are Supported By: