Happy Thanksgiving! Whether you're on the hunt for the best deals on Black Friday or you have plans to replace your pumpkins with garland, it's going to be a very busy weekend. Take some time to visit the Christmas Village in Philadelphia, shop for Christmas decor and gifts at the Holiday Craft Show, or head to Giggleberry Fair to get your photos with Santa! Check out this weekend's happenings below.
---
Christmas Village in Philadelphia
When: November 25th – December 24th, 11 am – 7 pm
Where: Love Park and City Hall
Christmas Village in Philadelphia is an outdoor holiday market event in Center City Philadelphia, which is modeled after traditional Christmas Markets in Germany. Vendors in wooden booths will set up shop during the holiday season to sell a wide variety of international holiday gifts, ornaments, jewelry and high-quality arts and crafts, as well as traditional European food, sweets and drinks. The unique atmosphere of lights and delicious smell of waffles, gingerbread, bratwurst and mulled wine will bring your family into the perfect Christmas spirit.
Winter Village at Festival of Trees
When: November 26-28, 10 am – 6 pm
Where: Red Mill Museum Village, 56 Main Street, Clinton, NJ
The Red Mill Museum Village's 12th Annual Festival of Trees 2021 brings you the Winter Village with MarketSpace Vendor Events. The three-day event will feature vendors, decorated trees, food trucks and so much more.
Holiday Craft Show
When: November 26 @ 8 am – December 5 @ 5:00 pm
Where: Pearl S. Buck International, 520 Dublin Road, Perkasie, PA
Enjoy a unique shopping experience at a high end craft show that offers jury-selected gifts, decorations, food, jewelry, apparel and more from professional crafters, artists and chefs. The Holiday Craft Show has been a Bucks County tradition for nearly three decades.
The 35th Annual Thanksgiving "not just" Rock Expo 2021
When: November 26, noon – 8 pm and November 27, 10 am – 4 pm
Where: Philadelphia Expo Center, 100 Station Ave, Oaks, PA
The 35th Annual Thanksgiving "not just" Rock Record Show is the largest musical collectibles show east of the Mississippi and it's being held at the Philadelphia Expo Center. Vendors will carry a large selection of new and used, rare, collectible and common records, CDs, DVDs, tapes, 45s, 12″ singles, posters, t-shirts, books and memorabilia.
Letters to Santa
When: November 26 @ 11 am – December 12 @ 5 pm
Where: Quakertown Farmers Market, 201 Station Road, Quakertown, PA
Children can drop off their letters to Santa and the they'll be sure to receive a personalized letter back. Include a self addressed, stamped envelope with the letter so Santa can get back to your child before Christmas. Drop your letter off early to ensure it gets back to you in time. The mailbox will be setup near Santa in Event Room #201.
Photos with Santa
When: Sunday, November 28th, 12-4 pm
Where: Giggleberry Fair, 167 Carousel Lane, New Hope, PA
Photos with Santa is taking place on Friday, November 26th; Saturdays and Sundays starting November 27th until December 19th. Friday from 4 pm – 7 pm, Saturdays from 12 pm – 6 pm and Sundays from 12 pm – 4 pm. The elves have transformed Giggleberry Fair into a holiday wonderland, just in time for Santa's arrival.
"Christmas in the Castle" Guided Tour
When: November 26 – January 9 daily, (not available Dec. 13-14 or 24-25), Jan. 11-30, weekends 2:30 pm, weekdays by appt.
Where: Glencairn Museum, 1001 Cathedral Road #0757, Bryn Athyn, PA
For forty years (1940s to 1970s), the Raymond and Mildred Pitcairn family celebrated Christmas at Glencairn with a concert, a large three-part Nativity scene, a decorated tree that reached beyond the second-floor balcony, and a Christmas day meal. This 45-minute guided tour with stops on five different floors (including the tower) invites visitors to journey back through time to explore Pitcairn holiday traditions in their 20th-century castle. This year, the tour features significant examples of Nativity art in the Glencairn collection with a special emphasis on artwork created by the artists who worked at Glencairn. At the conclusion of the tour, visitors can enjoy the first floor and the "World Nativities" exhibition on their own.
The "World Nativities" exhibition presents dozens of three-dimensional Nativity scenes collected from around the world. For many Christians, the Nativity scene is a meaningful expression of religious faith, providing a compelling visual focus during the Christmas season. "World Nativities" shows how artists adapt the Nativity scene to represent their own spiritual, intellectual, cultural and regional environments. Settings for the Nativities have been created by Bryn Athyn artist Kathleen Glenn Pitcairn.
The Nutcracker
When: November 27 & 28th, 3pm
Where: Villa Victoria Theater, 376 West Upper Ferry Road, Ewing, NJ
Roxey Ballet is presenting it's annual holiday classic: Tchaikovsky's "The Nutcracker". Clara and her friends will take you on an enchanting voyage to meet magical mice, giant rats, marching soldiers, swirling snowflakes, waltzing flowers and the beautiful Sugar Plum Fairy. Brilliant costumes and elaborate sets draw the audience into a heart-lifting marvelous journey that ushers in the seasonal spirit. Audiences can also expect a visit from Santa and his jolly friends. This production is known as the most child-friendly production in the region. The cast is comprised of more than 150 professional, pre-professional local dancers and actors. The performance is 1 hour, 45 minutes in length with one 15 minute intermission.
Christkindlmarkt: A Traditional German Christmas Market
When: November 27, 10 am – 5 pm.
Where: Vereinigung Erzgebirge, 130 Davisville Rd, Warminster, PA
Experience a traditional German Christmas Market right here in Bucks County at the German-American Sports and Social Club located in Warminster.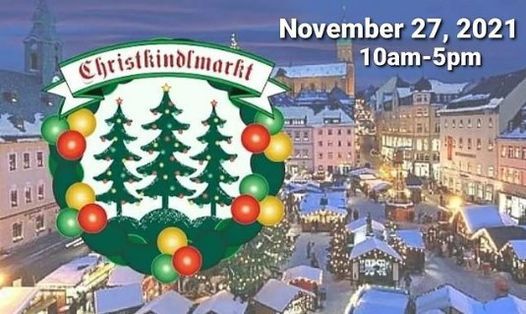 We Are Supported By: