Spooky season is upon us! This weekend kicks off the month of October and there's lots to look forward to. The countdown to Halloween is on and events and festivals starting this weekend will help everyone get in the spirit. From Oktoberfest to murder mysteries, this weekend is full of family fun. Check out this weekend's happenings below.
---
Feast on the Farm
When: Friday, October 1st, 6:30 pm – 9:30 pm
Where: Snipes Farm, 890 W Bridge Street, Morrisville, PA
Come out for an illuminating dinner and show under the stars at the 4th Annual Feast on the Farm at Snipes Farm. Grab your friends for a fun evening, learning how you can help sustain hunger relief efforts and enjoy the farm and a great movie. Gates open at 6 pm. Take a tour of the farm, enjoy dinner, learn about how Snipes Farm is working hard to fight food insecurity and watch the movie, Kiss the Ground. Limited tickets are available. Get your tickets here.
Walk in Penn's Woods
When: Sunday, October 3rd, 2 pm – 4 pm
Where: Peace Valley Nature Center, 170 N Chapman Road, Doylestown, PA
On Sunday, across the state, Pennsylvanians will be walking in the woods. Come out for a guided walk and travel through Penn's woods in Peace Valley Nature Center. Learn about the importance of trees and enjoy a relaxing fall afternoon beneath the canopy. Friendly, leashed dogs are welcome to join.
Fall Fest Market in the Vineyard
When: Saturday, October 2nd, 12 pm – 5 pm
Where: Wycombe Vineyards, 1391 Forest Grove Road, Furlong, PA
Celebrate fall at the Fall Festival Market in the vineyard this weekend. Browse hand selected vendor's booths, enjoy a glass of wine and grab something to eat. There will be local businesses selling merchandise and fall festivities for the whole family. Bring your own blankets and chairs as seating is limited. This event is completely outdoors.
Fall Sips at Newtown Athletic Club
When: Every Friday in October, 10/1-10/22, 5:30 pm – 10:30 pm
Where: Newtown Athletic Club, 120 Pheasant Run, Newtown, PA
Every Friday in the month of October, enjoy fall sips at the Newtown Athletic Club. There will be live music, fall brews and lots of family fun. The event is open to the community. There will be a bonfire lounge, gourmet food, activities and entertainment. Live music changes each week.
Murder by Gaslight: Murder of James Cosgrove
When: Saturday, October 2nd, 6 pm & 7 pm
Where: Historic Bolton Mansion, 85 Holly Drive, Levittown, PA
Enter the world of molls and gangsters, flappers and fellas, jazz bands and gin joints. Stroll the mansion grounds and peek into the shadowy corners, led by your guide – who just happens to be the victim of a 100 year old murder. You have the chance to solve a Murder by Gaslight: The Murder of James Cosgrove. You will be tasked with inspecting the crime scene, gathering the clues, and questioning the suspects you meet along the way. All ages are welcome. Children ages 14 or younger must be accompanied by an adult. Tours start at 6 pm and 7 pm. It's requested that you arrive 15 minutes before your tour start time.
New Original Live Philly Theatre 
When: Weekends in October, October 1 – 31, Fridays 7 pm, Saturdays 3 pm & 7 pm and Sundays 3 pm
Where: Plays and Players Theater, 1714 Delancey Street, Philadelphia, PA
Local production company, Brainchild Stageworkx will open its dark musical comedy on October 1st. The family-friendly musical is created, directed and produced by Philadelphia native and African American, Ryk Lewis. The cast and crew highlights racial, gender and neuro spectral diversity, featuring a myriad of musical genres, explosive choreography and a cast from all over the Delaware Valley. This is one of the first truly home-grown and developed new works of theater on this scale in quite some time.
Fall Family Fun – Bountiful Acres
When: Saturday, October 2nd – Sunday, October 3, 10 am – 4 pm
Where: Bountiful Acres, 5074 York Road, Buckingham, PA 18928
Fun for the whole family at Bountiful Acres this Saturday and Sunday includes a corn maze, kids fun, hayrides and more. Food and fall decor is available for purchase. Cost is $8/person. Come make new memories with old fashioned fun.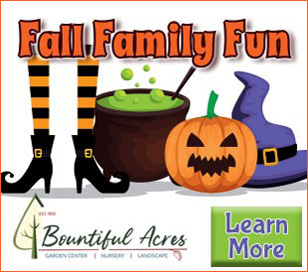 Beer Tasting: Oktoberfest
When: Friday, October 1st, 5 – 8 pm
Where: The Washington House, 136 North Main Street, PO Box 423, Sellersville, PA
Oktoberfest is the world's largest beer festival, held in Munich, Germany. Celebrate Oktoberfest in Bucks County this Friday at the Washington House. There will be a variety of German brews and delicious German dishes. Make a reservation here.
First Saturday Poetry – Major Jackson and Didi Jackson
When: Saturday, October 2nd, 6 pm
Where: Frenchtown Bookshop, 28 Bridge Street, Frenchtown, NJ
Every first Saturday of every month, listen to a poetry reading at the Frenchtown Bookshop. The gatherings begin at 6 pm and allow time for a Saturday night stroll or dinner in Frenchtown. The premiere poetry reading on October 2nd will feature Vermont poets and creative writing professors, Major Jackson and Didi Jackson. Major Jackson is the author of five books of poetry, most recently, The Absurd Man, published by WW Norton. Didi Jackson's poems have appeared in the New Yorker, Kenyon Review, New England Review, and in the Best American Poetry series. First Saturday Poetry Readings are free.
Read the 2021 Fall Guide for more fall events happening this weekend.
We Are Supported By: