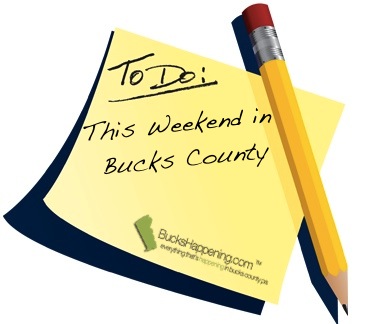 With Father's Day on the horizon, maybe you need something to do with dad this weekend. While we have a pretty extensive Father's Day guide on what to get or what to do, you can also check out our guide for Thursday, June 14th, 2012 – Sunday, June 17th, 2012 below. We have included some of the best events happening in Bucks County this weekend. Also, make sure to check out more fun things to do on our sortable calendar of events & restaurant guide.
Cocktails & Connections: A Free Social Hour for Everyone
Maxwells on Main, 37 N Main St, Doylestown
5:30pm – 6:30pm
Members and friends are invited to join Network Now for a networking happy hour in the heart of historic Doylestown. This casual get-to-know-each-other gathering is held on the second Thursday of every month. Free to attend. Cash bar. Food available for purchase.
Revealing the Power of Raw Foods, Super Foods, and Longevity
The Chip Factory, 7034 Easton Rd, Pipersville
6:00pm – 9:00pm
The Chip Factory's next big event will be hosted by David Wolfe, bestselling author and rock star of raw foods. Let's start really living. Take "You are what you eat" to the next level! Raw and super-foods expert & one of the world's leading authorities on health and nutrition is sure to inspire and empower you on your journey to wellness through a raw food lifestyle. Tickets are $45 per person. To register go here or call 215-766-3739.
360 Degrees of Separation
Phillips' Mill Community Association, 2619 River Road, New Hope
Doors open at 7:00pm, Performance at 8:00pm (performances also on June 14th, 16th, and 17th)
The Phillips' Mill Community Players are preparing an absurdly enjoyable show that will restore your faith in the beauty of song, the power of dance and the magic of deadpan hilarious dialogue that will chase your angst into the nearest black hole. This musical spoof on the human story through the ages was written, directed and assembled by Valerie Eastburn, guilty for writing the recent zany shows "Knot Again", "Derry Air" and "Schadenfreude". Reservations at $25.00 may be purchased on this web site or by calling 215-348-2869
Wine Concert Series
Shady Brook Farm, 931 Stony Hill Road, Yardley
6:00pm – 9:00pm
Don't miss the area's best outdoor concert venue! Enjoy music by local musicians, and wine tasting by Rose Bank Winery. Wine for sale by the glass or bottle. Cheese, crackers, and other yummy treats for sale in our Farm Market. Uncle Dave's Homemade Ice Cream and playground for kids. Fun for the whole family. And the best part – admission is FREE! This week features artist Richard Cox performing with his acoustic guitar!
Ghost Tours of New Hope
Corner of Main & Ferry St, New Hope
Starts at 8:00pm
Discover the History and Mystery of New Hope, Pa. (which has been dubbed "the most haunted square mile in the world") as your tour guide leads you around the picturesque streets of New Hope. Tours last for about an hour. The cost is $10 per person. Private tours are available year round for groups of six or more. Contact number is: (215) 343-5564
Fun on the Farm
The Market at DelVal, 2100 Lower State Rd, Doylestown
11:00am – 4:00pm
Enjoy fun on the farm! Live animals, inflatable attractions, wagon rides, samples, and more!
Dash for Joe
Newtown Friends Meeting, 219 Court St, Newtown, PA 18940
Registration starts at 12:00pm (rain or shine)
Help find a cure by sponsoring this fundraiser benefiting local and national prostate cancer research . Many local Newtown citizens have been victims of prostate cancer and we are here to love and support them! Winners generously rewarded! NOT your average (5k) race ~ .4 mile/1500 foot/500 charity Run/Walk to help American men affected by Prostate Cancer. Registration is $25 which includes a shirt and donation. All are welcome ( Runners, Non-Runners, Yogi's, Athletes, Body builders, Animals, Humans)!
Father's Day Car Show: Benefit the Survivor's Fund
Radisson Hotel, 2400 Old Lincoln Hwy, Trevose
9:00am – 3:00pm
Fathers Day Car show, BBQ, Music, Police special units, Brunch, Raffle, giveaways and more Raise money for FOP survivors fund. Money raised goes to the families of the fallen.
Sponsors: